Virginia state senator who recently won reelection faces lawsuit over residency requirement
A Virginia state senator who recently won reelection is facing a call for an investigation from her opponent and a lawsuit from several of her neighbors over whether she actually lives in the district she represents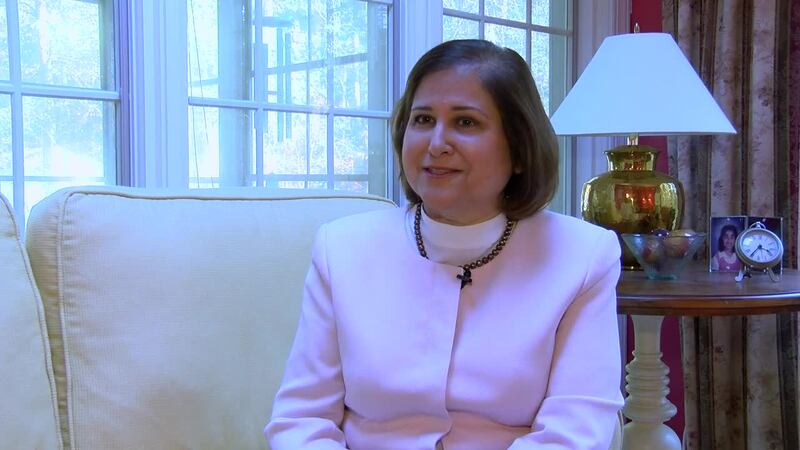 Published: Nov. 17, 2023 at 6:32 PM EST
|
Updated: Nov. 17, 2023 at 6:55 PM EST
CHESTERFIELD, Va. (AP) — A Virginia state senator who recently won reelection is facing a call for an investigation from her opponent and a lawsuit from several of her neighbors over whether she actually lives in the new district she represents.
Democratic Sen. Ghazala Hashmi defeated Republican challenger Hayden Fisher by more than 13,000 votes in the Nov. 7 election. The Richmond Times-Dispatch reports that Fisher said he is seeking an investigation and plans to ask state officials not to certify the results. Earlier this week, three Chesterfield residents filed a lawsuit alleging that Hashmi does not live in the new 15th District. The neighbors are asking for an injunction to block Hashmi's election.
Under state law, lawmakers must live in the legislative district they represent.
According to county tax records, Hashmi has owned a home in Midlothian since 1999. That home is within the boundaries of the old 10th District that Hashmi represented before redistricting was completed. Her candidate filing paperwork lists an apartment in north Chesterfield within the boundaries of the new 15th District, where she ran for reelection this year.
Ronald Gay, listed in online court records as the lead plaintiff in the lawsuit filed by Hashmi's neighbors, told the Times-Dispatch that he lives around the corner from the home Hashmi and her husband bought in 1999.
Gay said he sees her car and her husband's car parked in the driveway of the house. "I walk my dog every day between 7:30 and 8 in the morning, and I see both cars then," he said.
In a statement sent to The Associated Press on Friday, Aaron Mukerjee, an attorney for Hashmi, said Hashmi moved into her apartment in north Chesterfield in early 2023. Mukerjee said Hashmi updated her voter registration, car registration, and her driver's license to reflect her new residence.
"She was therefore a resident of the 15th Senate District at the time she filed for the office, and she remains a resident of the 15th Senate District to this day," Mukerjee said. "She has fully complied with Virginia law and we are confident this case will be dismissed."
When Virginia's Supreme Court redrew the state's legislative boundaries in late 2021, dozens of legislators were either drawn into districts with other incumbents or drawn out of their districts. Some moved so they could run in new districts, while many incumbents retired.
Hashmi isn't the only candidate whose residency has been called into question.
To remove candidates or sitting officeholders usually requires a prosecutor to file a legal complaint. It would be up to a judge to determine whether Hashmi met the requirements for candidacy. The state's Board of Elections will meet Dec. 4 to certify election results.