DHHR shares information on FDA investigation of applesauce pouches with elevated lead levels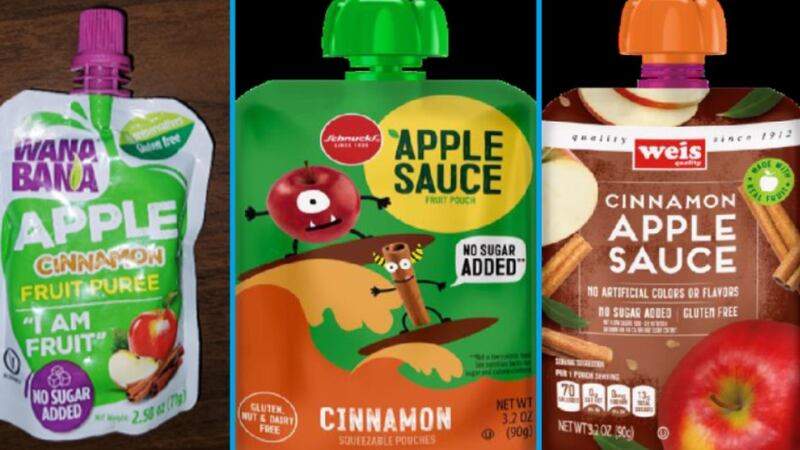 Published: Nov. 15, 2023 at 5:01 PM EST
CHARLESTON, W.Va. (WSAZ) - The West Virginia Department of Health and Human Resources (DHHR), Bureau for Public Health is sharing information about the U.S. Food and Drug Administration (FDA) investigation of recalled WanaBana, Schnucks, and Weis-brand apple cinnamon pouches due to reports of elevated levels of lead.
Most children have no obvious immediate symptoms of lead exposure, officials say.
Parents and caregivers of toddlers and young children who consumed the recalled products are encouraged to talk to a health care provider about getting a blood lead test.
The products were distributed nationwide through online and retail stores including Dollar Tree and Amazon.
Information on recalled lot codes and UPCs can be found HERE.
"Lead exposure may cause behavioral, developmental, and health problems; even at low levels in the blood, there is no safe level of lead in a child's blood. Because children under the age of six are undergoing critical neurological and physical development, they are especially vulnerable to the adverse effects of lead on the body," said Dr. Matthew Chirstiansen, State Health Officer and Commissioner of DHHR's Bureau for Public Health. "All West Virginia children should receive a screening test at one year of age and again at two years of age."
The Bureau for Public Health recommends the following for West Virginians concerned about the recalled WanaBana, Schnucks, and Weis-brand apple cinnamon pouches:
These products have a long shelf life. West Virginians with young children should check their homes and discard recalled products.

Do not eat or feed the recalled products to children.

If your child may have consumed recalled products, contact a health care provider about getting a blood test for lead.

To report a child becoming ill after consuming the recalled products, please contact the West Virginia Childhood Lead Poisoning Prevention Program at 304-558-5388 or toll-free at 1-800-642-8522.
Copyright 2023 WSAZ. All rights reserved.