Area 911 centers celebrate National Public Safety Telecommunicators Week
It's a week to thank the first people you talk to in an emergency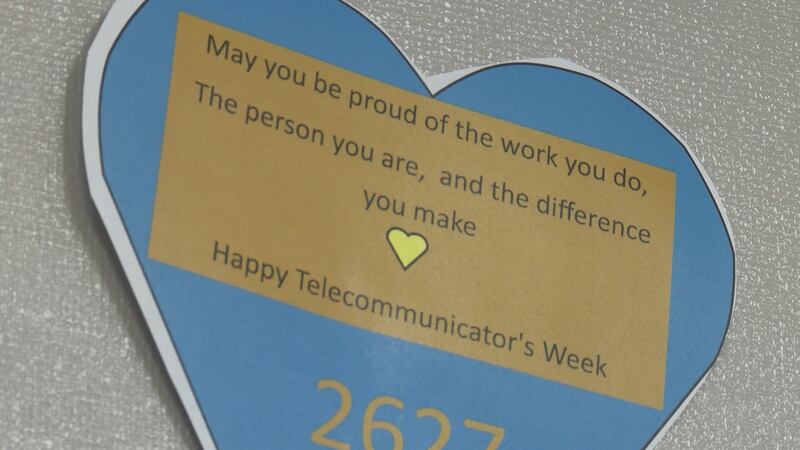 Published: Apr. 11, 2023 at 9:09 PM EDT
TAZEWELL, Va. (WVVA) -This is National Public Safety Telecommunicators Week, a celebration of 911 centers and the dispatchers who take the calls. Both the Tazewell and Mercer County 911 Centers are showing their appreciation to their employees with a week-long celebration.
In Tazewell, 911 dispatchers got to "dress down," get ice cream, and get breakfast cooked for them. Sheriff Brian Hieatt, the Tazewell County Sheriff, says, despite being an important part of emergency response, 911 dispatchers have an often thankless job.
"So often, everyone knows your police officers are there at your door, helping with your emergencies, rescue squads that are helping with medical, fire departments. But, a lot of times, people don't think about the people who are actually the first ones you talk to during the most crucial time that you may have in your life, and that's our 911 dispatchers," says Sheriff Hieatt.
In Mercer County, dispatchers were given a Margaritaville-themed party and had gifts delivered to them from the companies and organizations in the community. Julie Lockhart, their training officer says despite not always being in the limelight, it's a difficult job that takes both knowledge and nerve.
"It's critical, the job that we do most people can't do because... whenever the phone rings, we never know what's going to be on the other side. It could be from just giving a citizen directions to the police department to a multiple car pileup on 77 to someone just needing medical assistance, so every day is different. Every hour is different," Lockhart.
Both Tazewell and Mercer County 911 Centers say they do a lot of work behind the scenes to keep their communities safe by getting people the help they need when the need arises because they are literally just a phone call away.
If you would like to show your appreciation for dispatchers, Lockhart says to avoid calling 911 for non-emergencies. These calls can make responding to real emergencies more difficult. However, Sheriff Hieatt adds not to hesitate if you do feel you need to contact 911. He says, in an emergency situation, don't wait until it's too late.
Copyright 2023 WVVA. All rights reserved.