(WVVA) Reinforcing shots of cold air through the weekend and next week will keep our temperatures below normal. Colder air than what we're experiencing now will move our way Thursday night. A few light snow showers and flurries are possible Thursday evening and night as the colder air moves in. Very little to no accumulation is expected.
Friday will be windy and cold with high temperatures in the 30s. An area of low pressure will develop to our southeast on Friday, with most of the moisture staying away from our area.
The upper level pattern will maintain a broad trough in the east. A cold upper low, known in the meteorology community as the polar vortex will be placed somewhere over southeastern Canada. This will maintain a broad northwest flow, feeding cold air into the eastern US.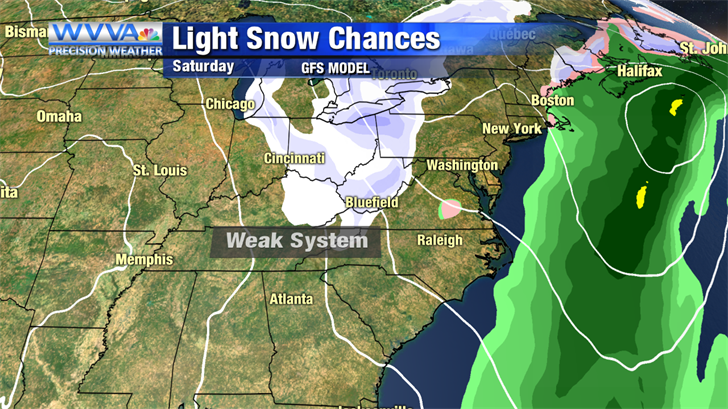 We'll see a better chance of snow showers Saturday evening into Sunday morning as another shot of cold air moves our way. Accumulations at this point look light, with most models advertising between trace and 2 inches of snow for most areas. There could be a little more along the west facing slopes of Greenbrier and Pocahontas counties through Sunday.
Dry conditions are expected for Monday along with slightly warmer temperatures ahead of our next round of cold air. High temperatures on Monday will climb into the 40s, but will fall back into the 30s on Tuesday.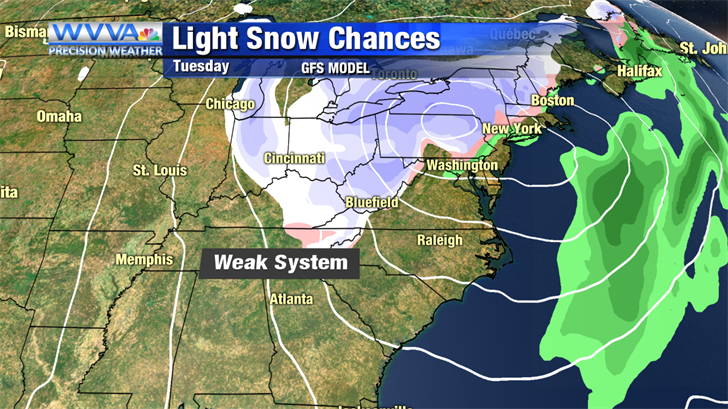 We'll also see a chance of snow showers on Tuesday and Wednesday that could lead to additional light accumulation.