A continuous flow of fresh air.
Heat- or energy-recovery ventilators and ventilation control systems help replace stale, contaminated indoor air with fresher outdoor air, to ensure that every corner of your home is comfortable.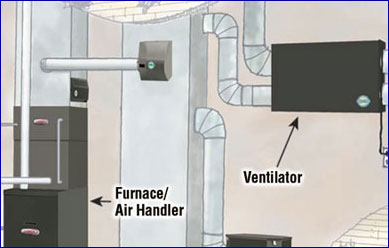 Shown: Energy- and heat-recovery ventilators installed with your home comfort system. The average home should have at least 0.35 ACH (air changes per hour) rating. Many newer homes have an ACH rating as low as 0.05.*
Ventilation applications for the home.
Heat Recovery Ventilator - Retains heat and moisture from indoor air before it's discharged. Ideal for colder climates.
Energy Recovery Ventilator - Reduces the humidity in the fresh air supplied to the home. Ideal for warmer, humid climates.
Ventilation Control System - Provides whole home ventilation by bringing in the right amount of fresh air at the right time.
Click here for more information