Not too sticky. Not too dry. Just right.
Products like humidifiers and thermostats, working together with your heating and cooling system, help keep moisture levels under control and balanced.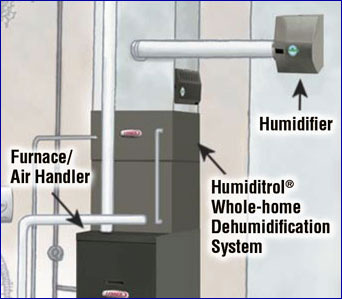 Shown: Healthy Climate® Power Humidifier and Humiditrol® Whole-home Dehumidification System installed with your home comfort system. Lennox indoor air quality experts and national studies indicate that, for optimal comfort and health, your home's relative humidity levels should range between 30 - 60%.
Solutions that help balance moisture levels.
Dehumidification
The Humiditrol® dehumidification system works with a two-stage air conditioner and ComfortSenseTM 7000 Series Touchscreen Thermostat* to help reduce moisture levels in the home, decreasing the potential for mold and mildew problems.
Effectively removing excess moisture from the entire home, a single area, or a combination of both, the Healthy Climate Whole-Home Dehumidifier helps create healthier air by reducing dust mites and mold.
Humidification
Humidifiers help regulate humidity by working with "forced-air" applications (furnaces or air handlers) to add moisture in the circulating conditioned air.
Healthy Climate® Power Humidifier - Powerful humidification for enhanced air quality and comfort.
Healthy Climate® Bypass Humidifier - Effective whole-house humidity control.
Thermostats
Thermostats like the advanced ComfortSenseTM 7000 Touchscreen Thermostat* monitors existing humidity levels and allows you to adjust humidity settings to your specific needs
*ComfortSenseTM 7000 Series Touchscreen Thermostat is required for the proper operation of the Humiditrol dehumidifier system on split-system air conditioners and heat pumps. ComfortSense home comfort control will not control the packaged rooftop unit version of the Humiditrol system
Click here for more information