The PureAirTM air purification system is the only single indoor air quality system that can safely remove and destroy chemical vapors and odors. Its also captures small particles and microorganisms. Using patented light-purification technology and two types of filtration, the PureAir system cleans the air better than any other single system you can buy.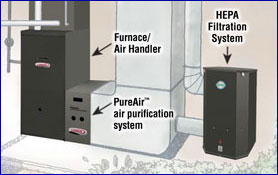 Shown: PureAirTM air purification system installed with your home comfort system. The Mayo Clinic has found that whole-home air cleaners are generally more effectively than freestanding units.
Germicidal Lamps
Contaminants can also be controlled through the process of illumination, with a germicidal lamp. Powered with maximum-intensity UVA light, these lamps help to dramatically reduce concentrations of microorganisms such as mildew, bacteria and mold spores.
Click here for more information


---

Air Filtration Systems
Protection for your entire home.
An air filtration system combats indoor pollution by capturing even the smallest contaminants, including asthma- and allergy-aggravating particles like pollen, mold and pet dander, in every room of your home.
Shown: The Healthy Climate® HEPA filtration system works with your heating and cooling system to remove up to 99.97% of small particles-pollutants that standard disposable filters can't stop.
Choosing the right air filtration system.
When selecting an air filtration system for your home, there are two main factors to consider:
Size of the area covered
The most effective air-filtration options are professionally installed, whole-house systems.* Unlike portable units that cover only a single room, these systems work with your central heating and cooling system to remove and destroy pollutants throughout your entire home.
Size and types of the pollutants removed
Lennox offers a complete line of filtration options that can rid your home of:
Small, respirable particles that can aggravate allergies and respiratory problems,
Biological contaminants like mold that can worsen asthma symptoms,
Airborne chemicals that can cause headaches, fatigue and dizziness.
Click Here for more information